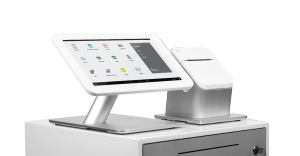 Clover Station is an all-in-one system with custom hardware designed specifically for POS. The software grows with you and makes your inventory, payroll and business easier to maintain. Clover replaces your cash register, payment terminal, receipt printer, cash drawer, and barcode scanner. Optional accessories, such as a handheld barcode scanner and a label printer, integrate seamlessly with the Clover Station.
Your Clover Station arrives pre-loaded with everything you need to accept payments and run your business more efficiently.
Key features include:
Create and view your menu of items, and change it anytime.
Keep a list of customers and their previous orders so you can personalize their experience.
Full service restaurants can assign tables to servers and manage table ordering, printing, and paying.
Retailers can track inventory, manage purchase orders, and view costs and quantities.
Run reports anytime, anywhere.
Clover in Action
Let us know if you would like to learn more. We look forward to assisting you.